Our Vision
Students at Echuca College are inspired and supported to achieve their best and develop the skills required to meet the challenges of an ever changing world in a caring learning environment.
Our Values – PRIDE
PROGRESSIVE – We continually evaluate and evolve to meet future needs of the students and the community
RESPECT – We value and honour each other's rights, property and environment.
INCLUSIVE – We ensure everyone has an opportunity to succeed, be safe and welcomed. We accept and recognise all values and strengths. We accept our differences, to build a strong community.
DEDICATED – We are committed to personal goals and to achieving our personal best.
EXCELLENCE – We are committed to improvement. We demonstrate excellence in our appearance, in our actions, in our communication and in always doing our personal best.
At Echuca College, we want our students to achieve success in all areas of school life and to be respectful, responsible young people who value the opportunities offered at our school.  We strongly believe that success at school will lead to even greater success in life beyond school. In an effort to build a positive school culture and to encourage positive behaviour for success. We have a new and interactive way of rewarding student achievement and effort through merits.  Staff can now log on to our student and family communication tool – XUNO and award students in the following areas: academic, cultural, sporting, community service, school service and for outstanding, positive behaviour. Merits are NOT issued for simply complying with normal school rules and general instructions.
The student merit system seeks to identify and reward students who make significant and positive contributions in classroom performance, service and leadership, and participation and representation at Echuca College.
It is a method of:
Rewarding students for sustained effort, demonstration of Echuca College values and achievement of excellence
Encouraging all students to do their best
Developing and maintaining a cooperative and supportive atmosphere among teachers, students and parents.
At our most recent Student Forum, students refined and improved our Positive Behaviour Matrix.
The matrix will support the introduction of our student merit system.
Achievements;
Points will be awarded to individuals who, through their actions promote the school values.
Students in each House would have the opportunity to undertake activities that would attract points that would be allocated to their Houses as well as to their individual record.
All points would be recorded on XUNO as an achievement
This will encourage healthy competition whilst providing all students with the opportunity to participate in representative sport, music, volunteer activities and personal development activities.
An example of how the merit system will work and the different levels of the system are illustrated below;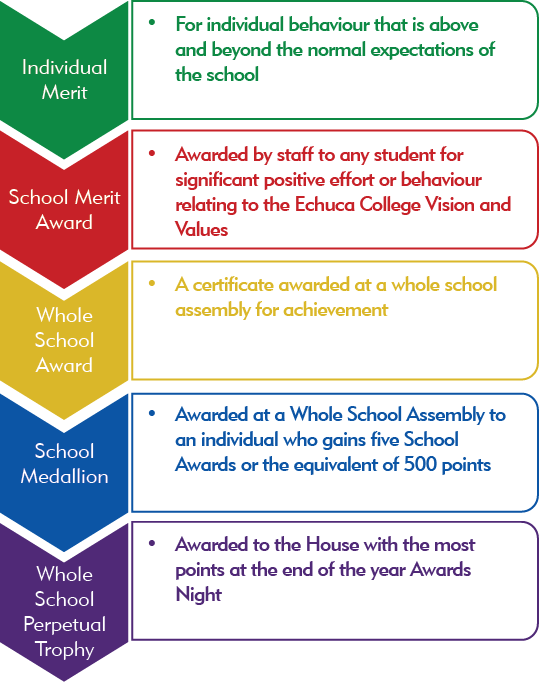 We have chosen jigsaw pieces to help represent our values at Echuca College because we believe we are all pieces of the Echuca College puzzle.  Each student, staff member and family each contribute to the make Echuca College what it is.  All of our events and activities combine to support students to achieve their best and develop the skills required to meet the challenges of an ever changing world in a caring learning environment.
We believe that each student is an integral and unique ensuring that diversity is our strength at Echuca College.