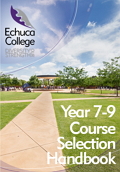 7 – 9 Handbook
At Echuca College the Years 7-9 program involves students in a transition from a broad and general education to one where they begin the process of making genuine choices that reflect their special interests and talents. These real choices will affect their long term educational and employment pathways.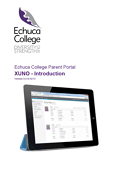 XUNO – Parent Introduction Booklet
Echuca College is excited to offer parent and guardians access to XUNO. This initiative will enable parents to log in and have immediate access to student information. Information available to you will include your students' timetable and attendance in classes, student reports and unexplained absences. In addition, important learning tasks and homework will be listed with the date the work is due to be submitted. This booklet provides an overview of XUNO and information for parents on how to access and use the portal.