Dear parents and carers,
Our first full week of classes has passed by and it was great to see students engaging in their lessons and enjoying the company of each other and staff at Echuca College. The positive behaviour we have seen in our students aligns closely with our College Values and School Wide Positive Behaviours, which are displayed prominently in all areas of the college. At our first whole school assembly on Monday morning, Andrew Briggs spoke about our positive behaviour expectations, a poster of which appears below. I encourage you to start a conversation with your child about how they are meeting these expectations at Echuca College.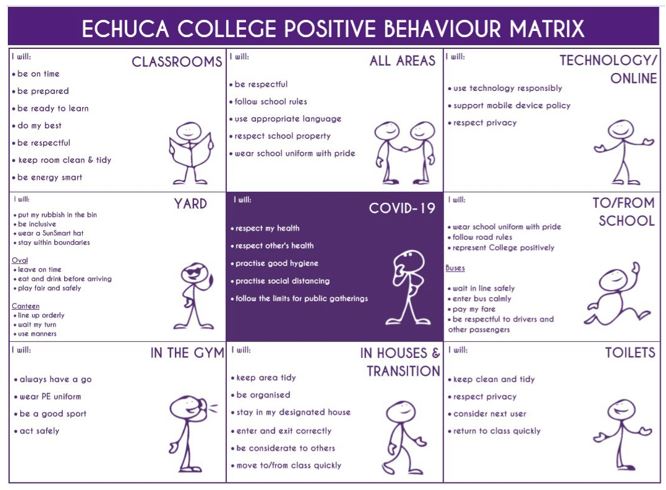 At the assembly on Monday we also heard from Sean Irving about Teaching and Learning and Paul Dolan about student leadership opportunities for 2021. We were also fortunate enough to have a visit from Lara Judd, our 2020 college dux, who spoke with students about the challenges she faced while learning in 2020 and how she overcame these with the support of friends, family and staff at the college.
While the border issue resolved itself over the previous weekend, we faced a new challenge with the re-introduction of masks in all indoor spaces. Students and staff must now wear a mask in all indoor areas across the college. The only exceptions to this are for those who have a medical exemption or for staff while they are giving direct instruction to a student or group of students. Please send your child to the college each day with a mask. We were able to provide masks to those who needed them last week, but we have a very limited supply.
Webinars for Parents and Carers
Please find below for an opportunity for all parents and carers to access a guide to cyberbullying and online drama
This Safer Internet Day 2021 webinar will look at how parents and carers can support young people to have safe and respectful online relationships and what to do if things go wrong.
It will cover:
starting conversations with your child about their online friendships and positive ways to deal with changing relationships
understanding the rights, laws and community expectations that govern social media use
where to seek help if your child is involved in a cyberbullying
The webinar will include case studies, research and targeted advice so you can support the young people in your life to have safe, enjoyable online experiences
To register, click here.
COVIDSafe Swimming Sports
As I communicated last week, our swimming sports is going ahead this year, albeit with restrictions in place, which means a total of 400 people can be on-site at any one time. We will have Year 7 students, Year 12 students and competitors only able to attend, along with staff and parents for supervision purposes only. If you are interested in coming along to help out as a marshal or other volunteer role, please contact the college and ask to speak with David Pearson. Unfortunately no one will be able to attend as a spectator only. For Year 8, 9, 10 and 11 students, apart from those competing in the sports, Tuesday 9 February will be a regular school day.
Outcome Tasks for VCE Students
In 2021, Echuca College will see a change in VCE Assessment processes. Students completing Year 11 & 12 VCE Subjects will be required to complete 'Outcome Tasks'. Thanks to Sarah Bridgewater, I have provided some FAQs about outcome tasks below.
What are Outcome Tasks?
Outcome Tasks are small, manageable and compulsory assessment tasks that are designed at the discretion of the classroom teacher. They are designed to assess the application of the Key Knowledge/Key Skills and should replicate SAC or and Exam questions/tasks. Students are able to use their class notes and textbooks to complete these tasks, which can be completed either at school, or independently at home.
What is the purpose of Outcome Tasks?
The purpose of Outcome Tasks are to provide students with the opportunity to:
Demonstrate their understanding of the outcomes assessed
Practice the application of Key Knowledge and Key Skills
Receive question specific feedback to enable students to better prepare for SAC completion
How are Outcome Tasks used by teachers?
Outcome Tasks enable teachers to:
Gain an in depth understanding of student progress
Provide feedback to students and parents about student progress
Collect evidence of student competency
Accurately 'rank' student progress
What are the benefits of Outcome Tasks?
Tasks are smaller and more manageable for the students to complete
Completing Outcome Tasks provides students with the opportunity to practice the application of content in preparation for SAC completion
Students receive formalised feedback more often and have the opportunity to 'iron' out any misunderstandings prior to SAC completion
Parents stay more informed of student progress                                                                                                                                                                                                                                                                                                                                                                                                                                                                                   
What happens if my child does not complete and submit an Outcome Task?                                                                                                                                                                                                                                                                                                                                                                                                                                         If a student fails to submit an Outcome Task by the due date, the redemption process is followed;
The student and parents will be formally notified via a Student Learning notice on XUNO.
The student will be given the opportunity to submit the Failure to do so will result in an 'N' for the unit.
The student receives a provisional 'N' for the unit, until the task is satisfactorily completed.
A VCE student submits the Outcome Task, but to an unsatisfactory standard. What happens next?                                                                                 If a student submits the task, but has not demonstrated achievement of the set outcomes, the redemption process is followed:
The student and parents of that student will be formally notified via a Student Learning notice on XUNO.
Students will be given the opportunity to utilise the feedback received to re-submit the task. Failure to do so will result in an 'N' for the unit.
Students receive a provisional 'N' for the unit, until the task is satisfactorily completed.
I have received a SMS notifying me my student has received a Student Learning for VCE Assessment Redemption.                                                                                  What does this mean?                                                                                                                                                                                                                                                            A redemption notice will be sent out for one of the following reasons;
An Outcome Task has been completed, however it does not show sufficient understanding.
An Outcome Task has not been submitted by the due date.
An Outcome Task has not been submitted.
The first Parent Teacher interviews later this term will be an ideal opportunity to discuss your child's progress with Outcome Tasks. If you have any questions or concerns regarding your child's progress prior to that, please do not hesitate to contact the relevant classroom teacher.Please remember, if you, your child, or a family member develops symptoms of a fever, chills or sweats, cough, sore throat, shortness of breath, runny nose, loss of smell or taste, you should get tested at a coronavirus (COVID-19) testing facility and stay home. Any confirmed case, or confirmed close contact of COVID-19 must be reported to the college.As always, take care of yourselves and each other.
Regards,
Simon Wood
Acting Principal – Echuca College