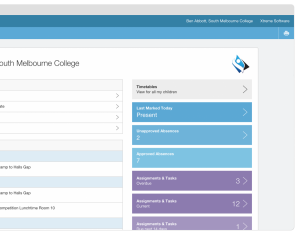 This year we are aiming to deliver more content and more information of your child's progress through XUNO (pronounced 'zoo-no'). We'll also be utilising new features of XUNO including online payment option for camps and excursions. For the new families to the school, XUNO is an initiative that enables families to log in and have immediate access to student information. Information available to you will include your students' timetable and attendance in classes, student reports and absence details. Assessment, learning tasks and homework will be listed with the date the work is due to be submitted and feedback will be provided on all assessment tasks via XUNO.  You will also be able to communicate to your child's teachers via an internal message system.
Student attendance and absence is a priority to Echuca College. XUNO now enables families to input absence reason for any absences that are still "Unexplained". We would appreciate families to regularly review their child's attendance and provide reason for any of these unexplained occurrences.
In early 2017, changes were made to the way families log in. All existing users have been issued new user names and passwords, and a 'XUNO Welcome' email has been sent detailing this. If you have not received this, please go to  http://xuno.echucacollege.vic.edu.au/ and click on the "Forgot your username or password?" link. You can input your email address and a password will be emailed out to you. Otherwise, please contact the office for assistance.
It is critical your email address and details are up to date on our systems for this process to work. If at any point you have any issues, please call the office on 03 5482 1133.
An information booklet about XUNO is available at:  http://www.echucacollege.vic.edu.au/publications/xuno/XUNO_Parent_Introduction.pdf – This details how to use XUNO and where to go to for help.
We welcome feedback on XUNO. If you have any questions, concerns or feedback, please contact the office on 03 5482 1133.
Latest XUNO News
admin
The long awaited XUNO App is now available for students and families of Echuca College for both Apple and Android devices. The app now provides students and families the ability to directly respond to messages, [...]