Our students have arrived safely back in Australia – here is the last report from China about their final week.
Saturday Nov 22nd
We had a very early start for our trip to Longsheng and Yangshuo departing Utahloy at 6am. It was a very long day on the bus. It wasn't too long before we started to see some amazing scenery. It was freeway for most of the journey, but the last 2 hours we headed into the mountains and it was quite a windy narrow road and we got to see Chinese driving at its finest. It doesn't look safe but it seems to work. We had to change to a smaller bus for the last 45 minutes as the road was too narrow and windy for the big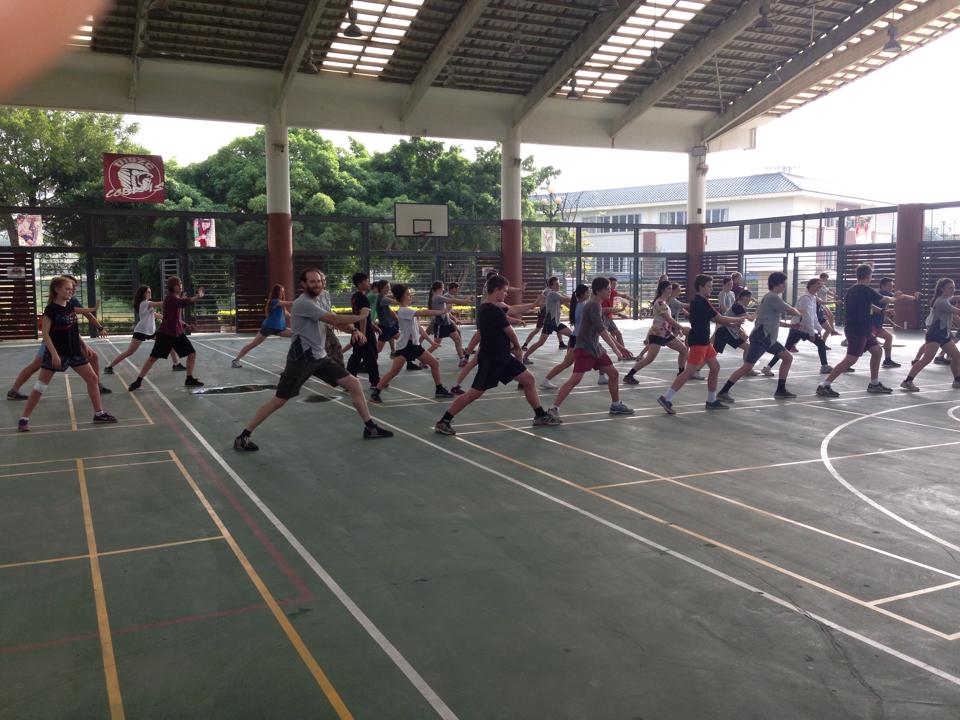 bus. When we arrived at Lonsheng we had to walk about 30 minutes to get up to our hotel. There are no roads, just small paths made of rocks that run between the buildings on the steep slopes. It was quite an amazing place. Lonsheng is famous for its rice terraces. We made it to the hotel and were treated to an amazing dinner that was in the traditional Chinese banquet at a round table. The students were 2 to a room in the hotel and were very excited about the softer mattress.
Sunday Nov 23rd
The students all enjoyed a sleep in with breakfast at 8am. After making our lunch we embarked on a long days hike through the rice terraces and the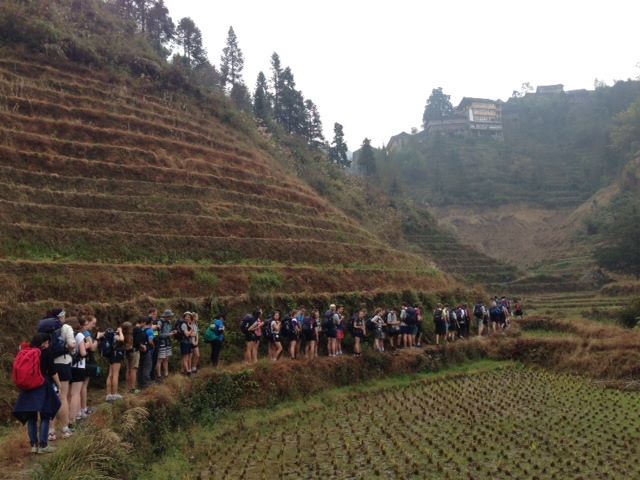 area known as the Devil's Backbone. It was quite a surreal experience and the photos will never do justice to what we saw. We got to see some local minority groups. One of which has a tradition where the women only cut their hair 3 times in their life. We got to see these women combing and putting their hair up. They then sold us some of the goods they had handmade. It was nice to see the buses at the end of the day. We then had a 4 hour trip back to Yangshuo. Arriving in the dark we were greeted by lights everywhere. The city is nestled amongst some amazing rock formations. We went straight out to Dinner at a restaurant for another banquet meal. We then moved into our accommodation for the next 4 days at the Yangshuo Leisure Inn.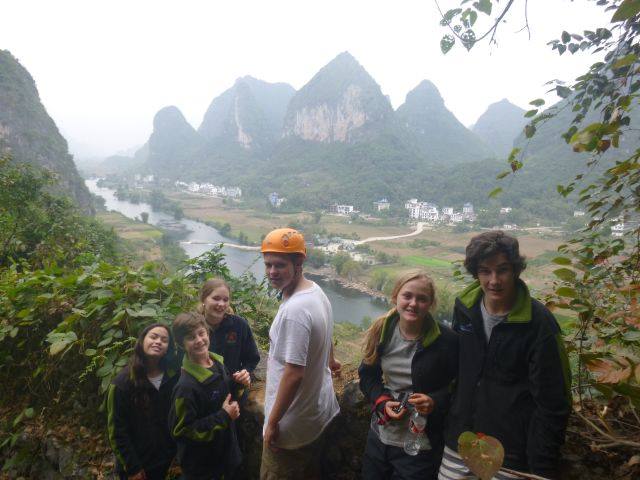 Monday Nov 24th
Yangshuo sits on the Li River, nestled amongst towers of limestone, known as Karsts. These Karsts range between 200 to 500 meters high and provide a stunning backdrop to the town and river. They were formed by tectonic lifting, and have eroded to their current tower shape. The same erosion process of the calcium carbonate towers mixing with carbon dioxide and water to form carbonic acid is also responsible for creating numerous caves in the Karsts, and has made Yangshuo a very famous climbing and caving destination. Today we were treated to a caving experience which included checking out the stalagmites and stalactites, as well and other features in the cave. We first entered through the bottom by boat and then made our way almost to the top of the karst before descending again, on the inside, back to daylight. A highlight for many was the mud bath within in the cave and the following swim to clean of all the mud.
The other challenge students faced today was a Rogaine around the pedestrian area of Youngshuo. This involved navigation, problem solving and language skills communicating with shop owners and locals. It offered another insight in to a rapidly growing China, with this town being one of few that focuses and specialises in foreign tourism. This was a fantastic and memorable first full day in Youngshuo.
Tuesday Nov 25th
Students were treated to another wonderful day in Yangshuo. Core 1 spent the morning at cooking school and the afternoon abseiling, whilst Core 2 had abseiling in the morning and cooking in the afternoon. We made some delicious food at the cooking school; including egg dumplings, noodles and chicken stir fry. They had to do everything for themselves; proving to all of them that they can cook. Hopefully the students will be able to take some of what they learnt into the kitchen at home! The site where we went abseiling was called Treasure Cave. The view was spectacular to say the least and the students were all willing to give it a go, despite some apprehension before stepping over the edge. They demonstrated that they are capable of pushing themselves outside of their comfort zone, as well as showing how well they support each other through tough situations.
Wednesday Nov 26th
Today our students spent the day rock climbing and bike riding through some beautiful countryside. Again, many of the students pushed themselves outside of their comfort zones during climbing and it was great to see them support and give encouragement to each other. Climbing is a challenging activity, both physically and mentally and every student rose up to the challenge and did their best. The bike ride through some of the local villages was spectacular. Everyone enjoyed taking in the views of the river, the surrounding karst mountains and the villages along the way.
Thursday Nov 27th
Today was the long return travel back to Utahloy and to our home away from home, the Uthaloy International School. After a final farewell with the staff from Insight Adventures at Yangshuo we boarded the bus at 9.30am and headed south. We arrived back at Utahloy just after 4pm, enjoyed some dinner and set about practising our project presentations in the evening. Over this past week away, the students have been showing excellent resilience, endurance and commitment to their learning. They are looking to their final two days at Utahloy before their departure on Saturday evening.
Friday Nov 28th
This morning our students visited the local Wet Market of Zengcheng, another fascinating traditional Chinese experience. Locals were buying their fruit produce but also their fresh meat and fish. Most students took this experience in their stride and enjoyed their last trip to a Chinese market. Following their return from Zengcheng the students prepared and delivered their research project which focussed on an aspect of China looking at intercultural understanding, language development or globalisation. Some of the projects focussed on the differences between Australian and Chinese schools, Retail in China and the effect of globalisation on China. It was a fantastic display of all that they have learnt over the past 4 weeks. All Alpine School and Utahloy staff were all very proud of the VYLC students and the learning that has taken place, as they were able to put this on display during their presentations today.
Sat Nov 29th
Today is our final day in China. It has been an incredible journey and trip for all students and staff involved filled with positives, memories, friendships, challenges and learning but we must remain focused on the week ahead at The Alpine School, as we reflect upon the learning and encouraged our students to identify where they can apply their learning and experiences to their own lives.
This morning we have been treated to some Kung Fu lessons and this afternoon they will receive their Utahloy International School certificates.