Over two days in two weeks during September a total of 85 Students from the Echuca College, under the supervision from their teachers, Emily Bongiovanni, and David Pearson, visited the Echuca Clay Target club for coaching, and actual shooting in the sport of Clay Target Shooting.
The behaviour and attention of the Students was excellent as almost none had ever actually held a 12 gauge shotgun, let alone shot one before, and yet by listening to their coaches, and perseverance, almost all managed to score hits on their targets. Being very heavy firearms, and possibly the fear of recoil, did make some Students wary at the start, but after the recoil thing became unfounded scores became to improve dramatically.
With two lots of ten targets to shoot at in single barrel format, single barrel primarily for safety reasons during coaching, competition was keen, and in teacher Emily Bongiovanni's year ten Students, the Overall Boy High Gun Award went to Kyiden Ellis who managed to record a very creditable score of 16/20. Nathan Vanzetts was not far behind with again a very good score of 15/20, earning him 2nd placing. Emily Spence-Pollock shot a 7/20 score earning her the Overall Girl High Gun certificate, and Sarah Hilet recorded 4/20 giving her the 2nd placing in the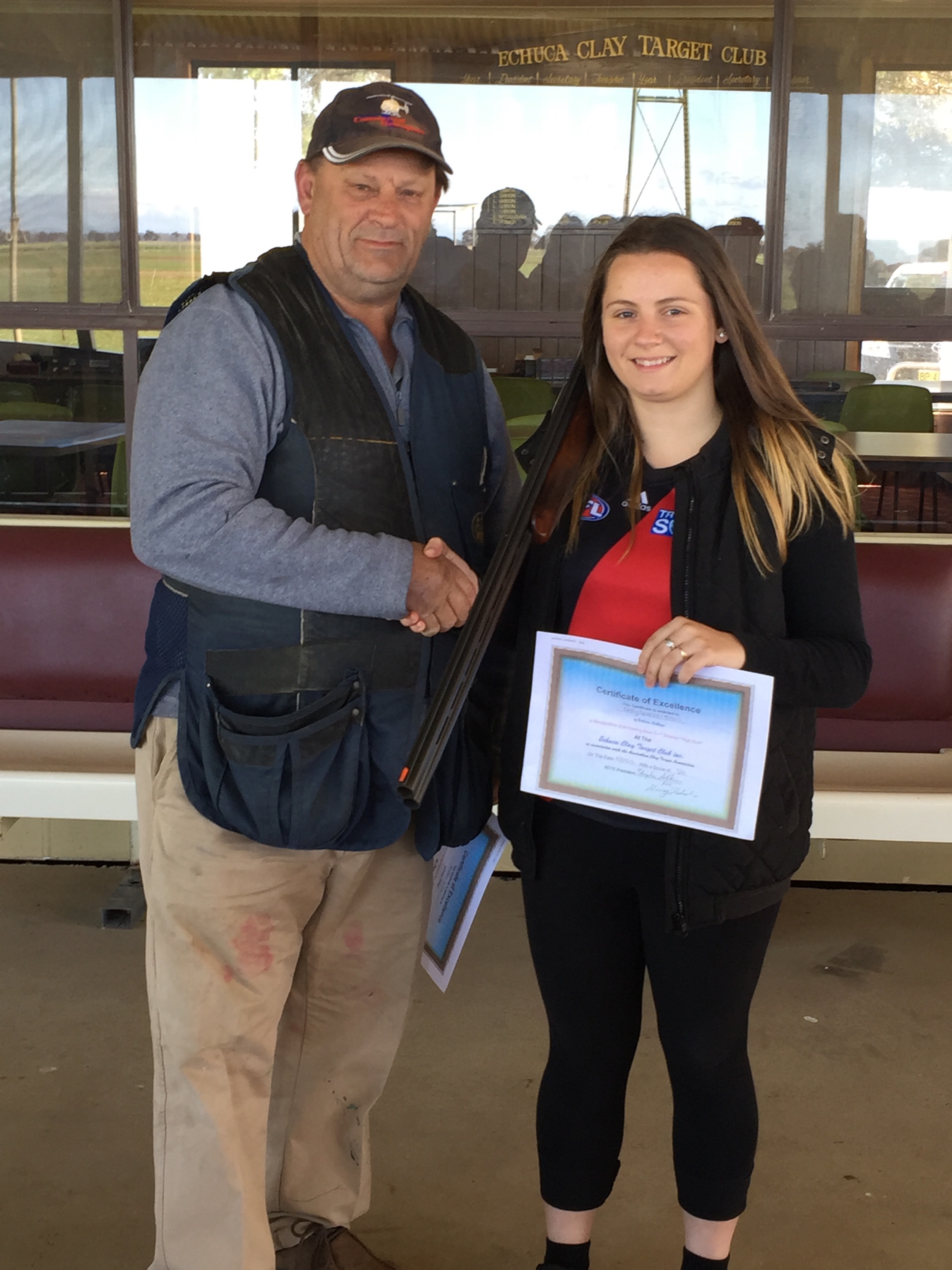 girl category.
Year nine Students under supervision from their teacher David Pearson also performed well although being younger the heavy shotguns were more so for them, they unlike the year ten Students needed a shoot off to decide the actual winners, with Caleb Upton taking out the Overall Boy High Gun with a score of 11/22, and Connor Brown who also shot a ten score becoming the 2nd place boy. In the girls section Kiara Duncan, also a ten target scorer, became the Overall Girl High Gun Winner, and although there was no Overall High Gun Winner position Kiara would have won that category with her excellent 11/21 score, congratulations Kiara! Lilli Kelly having scored a 5/20 was the owner of the 2nd girl placing.
These scores from Student's, most who had never shot a gun before, and allowed only one shot per target, means that they really did listen to the volunteer's from the Echuca and the Mathoura Clubs, and that does inspire the coaches to keep up their good work. The Echuca Clay Target Club Committee members and Harry O'Connor from Mathoura are thanked for their help. Thanks must also go to the teachers and to the Echuca College for taking an interest in the sport of Clay Target.