Hei! Jeg heter Courtney og jeg har bodd i landet av vikingene for de siste 10 månedene!!
So I'm guessing you most likely don't understand much Norwegian, so I will be happy to translate for you!
"Hi! My name is Courtney and I have been living in the land of the Vikings for the past 10 months!"
It's quite hard to imagine that last year I found out I would be travelling to the amazing country of Norway and living amongst the snow and mountains. It is sad to say that my exchange year is nearly concluding, but not just yet!
On the 16th of January 2015 I left the 40°C Australian heat to the lovely -14°C chill of Norway. As I stepped out of the quiet airport, gripping my bags tightly I saw snow fall gently on the ground for the first time. It was a truly magical moment. Then, I realised how hard it is to walk on an icy path, slipped over, and the magical moment was gone.
My first impressions of Norway were too good to be true. I loved the food (probably a little too much), I loved the language and I loved the people. I live in a small town called Kongsvinger, located on the East side of Norway. Very different from Echuca, lots of hills, trees and it gets really cold! Kongsvinger is only one hour from Oslo and only 30 mins from Sweden, so I have been to Sweden and Oslo many times with my families.
My first day at school was absolutely terrifying. It didn't really sink in that I would actually be spending my next year here until I saw my classmates excitingly staring at me when I nervously walked through the classroom door. School is very different in Norway; there are no school uniforms, all tests are done on a computer and we spend a lot of time indoor. We also call all teachers by their first name, (which I still find to be strange at times). I am in a sports class at my school, which means I train seven times a week and I study many sport themed subjects. I love my class so much, they have taught me so many things and we have been on some pretty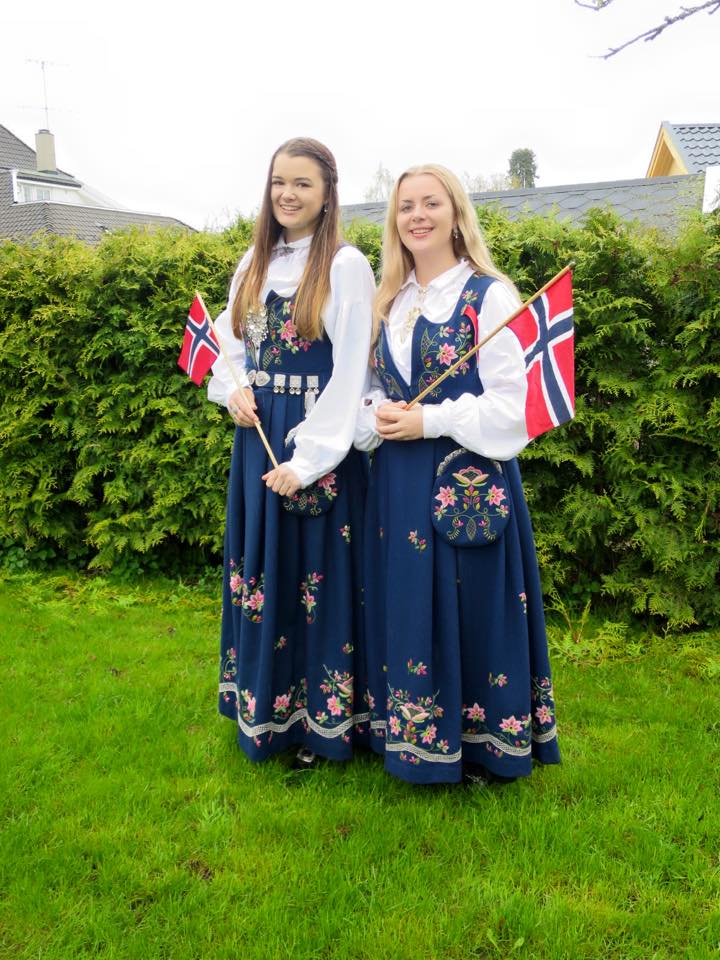 incredible trips together. From downhill skiing on black tracks in the Norwegian ski slopes to climbing the tallest mountain in Norway over a glacier; my class has really put me out of my comfort zone. I have taught them netball and they have taught me handball, skiing, dog sledding, and unusually water polo. Throughout my year I have taught over six English classes at my school about Australian culture and language, as the teacher of the class. Also, I have taught two classes at my nine year old host brother's school. The students were so happy to meet me but not so happy after I made them taste vegemite.
While I have been on exchange I have learnt so much!! I absolutely love my Norwegian classes at school, as my teacher motivates me to read Norwegian literature and understand the culture. Learning the language was a challenge that I took on with the help of friends, families and my teachers. I can now read, write and speak the Norwegian language very well, and quite often are asked to speak to large groups of people about Australia and my time Norway.
Norway is truly a unique country filled with kind-hearted people, beautiful nature and the best chocolate. I have seen the aesthetic nature in Norway from the rocky coasts, blue fjords, snow-capped mountains and sweeping hills. I am constantly staring out the window of the car and reminded how lucky I am to be here. Since I embarked on my journey, I have seen myself grow into a proud, confident person. I have many friends that I have met along the way from many countries such as the USA, Germany, Brazil and Taiwan. I have developed my individuality and maturity whilst being here. I could not thank Rotary enough for this amazing opportunity to become a Rotary Youth Exchange Student. The Rotary club in Kongsvinger is very supportive, and it is a big part of my life. My three families that have hosted me are all involved in Rotary, and have provided me with the most memorable experience of my life, and accepted me as part of their own family.
I am looking forward to my next adventure, beginning with year 11 in 2016 back at Echuca College.
See you all soon,
Courtney Johnson
If you are interested in Rotary Youth Exchange go to rotaryyouthexchangedistrict9800.com.au