Dear parents and carers,
It has been great to see so many happy faces (staff and students) in the return to on-site learning this week. While we still have many challenges to face, as the recent incident in Shepparton has shown us, the best place for all students is back on-site and in their classes.
A few reminders from me:
Face masks must be worn by students, staff and visitors at all times while on-site and travelling to and from the college. There are some students and staff who are exempt from this requirement for medical reasons. In these cases, medical documentation is
All students should bring a drink bottle each day. Bubble taps are still unavailable and with the weather warming up there is a real risk of dehydration occurring. Drink bottles can be filled up at various points around the
Any students with symptoms related to COVID-19 must stay at home and go and get tested as soon as possible. The college must also be notified when a student is being
Shepparton Outbreak
As mentioned above, it was reported yesterday that an outbreak has occurred in Shepparton related to the cases from Chadstone Shopping Centre. Please take note of the high risk areas identified by DHHS and if you or another family member has visited one or more of these the advice is to get tested and quarantine. The full list of high risk areas and further advice is available here: DHHS Information for Shepparton Outbreak
Face Mask Requirements
Further advice has been provided by DHHS about appropriate face coverings. I have provided a handy graphic below for you: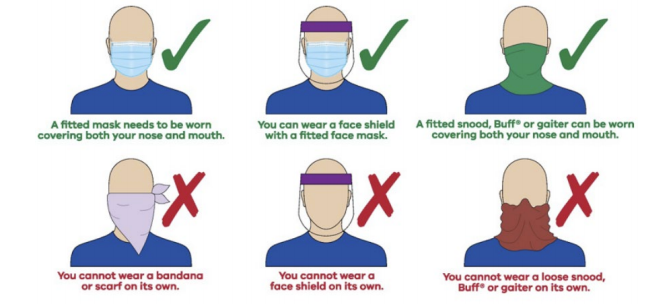 Thanks to one of our Year 12 students, Annastasia Gadsden, for sourcing this from DHHS for me.
Please remember, if you, your child, or a family member develops symptoms of a fever, chills or sweats, cough, sore throat, shortness of breath, runny nose, loss of smell or taste, you should get tested at a coronavirus (COVID-19) testing facility and stay home. Any confirmed case, or confirmed close contact of COVID-19 must be reported to the college.
I will continue to provide the Echuca College community with updates throughout Term 4 as needed. If you have any questions or concerns about the return to on-site learning please do not hesitate to contact the college to have your call appropriately referred.
As always, take care of yourselves and each other.
Regards,
Simon Wood
Acting Principal – Echuca College